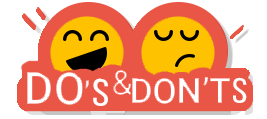 Wear respectful clothing.

Enjoy watching a variety of animals and birds and get to know it.

Enjoy the experience of feeding animals with the experts, like the lovely giraffe feeding.

Enjoy the diversity of our restaurants with lots of food and drinks.

pre order your photo or videography for professional purposes within the services and benefits we provide.

rent a bike.

Help informing security when noticing and suspicious activities.

participate in the deferent activities organized and hosted by the zoo for scientific, educational and awareness purposes.
Brining animals to the zoo.

Feeding animals without supervision.

annoying animals is prohibited, remember; this is their home!

jump over the the safety area.

bringing any kind of food to the zoo.

taking photos and videos for commercial purposes without permission.

brining toys and entertainment tools like RC cars, skateboards, bikes, scooters, skates, balls, musical instruments.

participating in any activity that might Impedes the work of the zoo staff.

organizing un-official events, speeches and using any flag, signage or trademarks for marketing or sedition purposes.

Guns, and everything related to it such as fireworks.

brining balloons, small plastic objects or lollipops, for animal safety.

distribution of either printer or voice material.

selling products and/or services or offering them.
Children should be supervised at all times.